I grew up west of Redding on Placer Road among the manzanita, oaks, and grey pines of the chaparral. When I wasn't romping through the undergrowth, pedaling my BMX bike down a dusty trail, or splashing through creeks with my two dogs, I usually had my nose buried in a book. At least, until I got my first computer—a Commodore 64.
After graduating from Shasta High School, I attended California State University, Chico, where I earned a Bachelor of Arts degree in Public Administration. Living in Chico rekindled my childhood love for cycling, even after I was struck by a SUV that rolled through a four-way stop. The marked differences between Redding and Chico awakened my interest in land-use and urban planning—why was Chico's downtown so different than Redding's? Was it more than just the college? It was by seeking the answers to these questions that I became a believer in New Urbanism. It was also in Chico that I was first paid to write, first for the Synthesis and later for the Chico News and Review, two alternative weekly newspapers.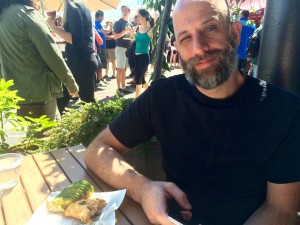 In the spring of 2015, I decided to put my money where my mouth is and I moved to Downtown Redding along with my spoiled Bengal cat, Neko.
I have a deep love of history, particularly local history, As David McCulloch said, "History is who we are and why we are the way we are." I believe the context that history provides is invaluable in understanding the challenges of today and formulating effective solutions. With that in mind, I recently created a timeline of Redding's history focusing on the built environment. As part of my research for the timeline, I've been able to correct old misconceptions and inaccuracies about several events in local history, such as the demolition date of the Carnegie Library. I'm currently working on a book on Shasta County history that I hope to have out in the near future.
My other interests include photography, cinema, music, fitness, and the great outdoors.